In the winter season, the difference in air temperatures and conditions wears out your hair. Extreme cold has bad effects on women's hair, which is very important to them. Intense weather conditions in winter and rain and snow conditions prevent hair from being healthy. Also, hair needs more care. So, how should hair care be done in winter?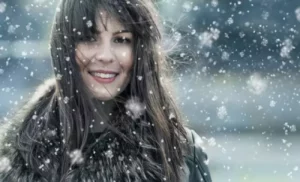 How to Care For Hair in Winter?
First of all, the scalp dries out due to the wind and the low humidity in the air. This causes the hair to dry out over time. In order to prevent this problem, it is necessary to keep the hair warm and to use protective products such as beanies. However, these products should not be too tight. Because this issue is important for the hair to breathe and the blood circulation to be healthy.
On the contrary, if you leave your hair without oxygen while protecting it from wind and cold weather, of course, you may have to deal with important problems such as shedding. Of course, although the cold weather you encounter in winter causes you to take your bath under much hotter water, this is one of the biggest mistakes made.
Otherwise, big temperature changes can cause your hair to wear out even more, and drying of the scalp can cause unpleasant problems such as hair loss.
If you don't want to do hair care, be careful with these!
Avoid Hair Dryers:
You should also avoid using hair dryers that are very hot after a bath. Because these are considered among the mistakes that wear hair.
Avoid Certain Medications:
Also, stay away from prescriptions that are recommended to be applied to the hair with herbal mixtures of certain drugs and substances from time to time. Do not use unreliable hair care products. You should also research well the care creams and shampoos produced for winter care. Since you do not know how these products will affect your hair, you should stay away from knowing them. In addition, it is important to use products that are suitable for your hair, both in winter and in other seasons.
Pay Attention to Hair Washing Times:
Because each type of hair has its own type, that is, its character. When you use hair care products that are not suitable for these, it is not even sincere that you experience hair and scalp problems. You should also avoid washing your hair too often. Washing your hair 2-3 times a week is quite enough for them to be healthy and well-groomed.